PERFORMANCE
---
Pauline Oliveros and Manuela Meier perform works for 2 accordions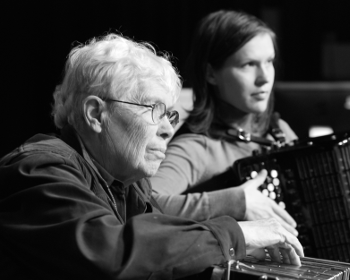 photograph by Neil Harrison
Improvisation for two crowds (on being on and off-line)
with Pauline Oliveros (acc/band), Manuela Meier (acc),
directed by Chris Johnston
CETL (NI): The Centre for Excellence in the Creative and Performing Arts
in collaboration with the School of Music and Sonic Arts and Drama at Queen's University Belfast
at Brian Friel Theatre, Drama Department (QUB)
Belfast, Northern Ireland (UK) 15.05.2009
The concert was also shown publicly in SecondLife.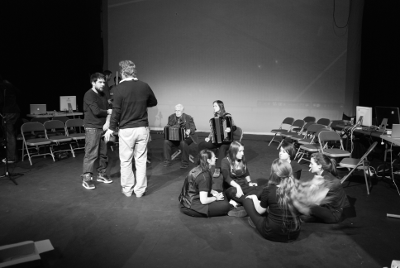 photograph by Neil Harrison
Droniphonia (by Pauline Oliveros) at Sonorities Festival of Contemporary Music
Sonic Lab, Sonic Arts Research Centre (SARC), Queen's University Belfast, Northern Ireland (UK) 16.05.2009
feat. partners from the European CO-ME-DI-A project (Cooperation and Medation in Digital Arts)
and composer/accordionist Pauline Oliveros (US), Manuela Meier (accordion)
---
Further networked performances with Manuela Meier (acc) – selection
ResoNations - An International Telematic Music Concert for Peace
New works were written for and performed by musicians located in five telematically interconnected locations across three continents, with audiences able to follow the concert both locally as well as online.
20.11.2009
live at:
7:00PM EST United Nations Headquarters, New York City, US
4:00PM PST University of California San Diego, US
5:00PM MST The Banff Centre, Alberta, Canada
12:00AM BST Queens University Belfast, Northern Ireland, UK
6:00AM KST Korea Advanced Institute of Science and Technology, Daedeok, Daejeon, South Korea
performers at the Queens University Belfast, Sonic Arts Research Centre, Northern Ireland (UK) location:
Pedro Rebelo, composer and piano
Franziska Schroeder, saxophone
Manuela Meier, accordion
Steve Davis, percussion
Justin Yang, saxophone/electronics
---
PERFORMANCE – Manuela Meier (accordion)
Read more: PERFORMANCE – Manuela Meier (acc)